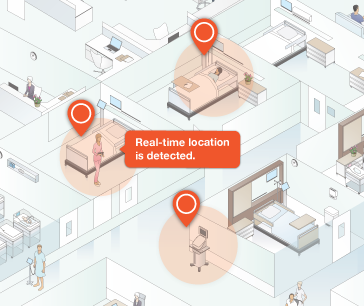 Revolutionizing Healthcare: The Power of Hospital RTLS
Revolutionizing Healthcare: The Power of Hospital RTLS
The healthcare industry, where every second counts, is under vast pressure to improve patient care quality while maximizing operational efficiency. To overcome this challenge, the healthcare industry has seen significant advancements in technology in recent years, one of which, Real-Time Location Systems (RTLS) is revolutionizing hospitals. RTLS technology transforms the way hospitals operate by bringing ultimate awareness and actionable insights into all hospital operations.
What is RTLS? How Does RTLS Work in Healthcare?
Imagine you're rushing through the halls of a busy hospital, trying to keep up with the fast-paced environment. Patients are being wheeled in and out, doctors and nurses are darting from room to room, and assets are being moved from one location to another. In the midst of all this chaos, it can be easy to lose track of an asset or even a patient. Just think of a world in which medical assets and patients can be located in seconds or where patient flow is optimized to reduce wait times. This is the world of RTLS.
RTLS is a technology used to track and monitor the location and movement of people and assets within a healthcare facility. RTLS essentially leverages radio frequency (RF) technologies like Ultra-Wideband (UWB) and Bluetooth Low Energy (BLE), as well as wireless devices, such as tracking tags and 24/7 detection of the location of patients, staff and asset across the facility. It all starts with special tags, tiny little devices that are attached to assets or worn by patients and staff. These tags emit a unique signal, like a bat signal, calling for help that the RTLS system can pick up. Once the signal is received, the hospital RTLS system springs into action, tracking the location of the tag in real time. This way, the hospital always knows where patients, assets and staff are. It's like having a bird's eye view of the entire hospital — real-time visibility.
Visibility is essential for hospital transformation. RTLS in hospitals provides real-time visibility by tracking everything from patients, assets, staff and environmental conditions. However, tracking (seeing the location information on the hospital map) is insufficient for hospitals. It is merely a capability, not a benefit. All IoT (Internet of Things) data is gathered through sensors by tracking assets, people, staff and environmental conditions in real time with current and updated status information. These real-time and historical data are then transformed into awareness and insights.
For example, it is not enough to see the real-time location of the patient. RTLS-enabled solutions can tell you how long patients stay in pre-op, post-op, where bottlenecks are happening and much more. This information helps hospitals become more efficient and provide better care to patients.
Main Benefits of Hospital RTLS
Maximized operational efficiency
In any hospital, managing and tracking assets is crucial to efficient operations. One of the most significant challenges faced by hospitals is managing their inventory of hospital assets. Traditionally, inventory management has been a time-consuming process, requiring much manual labor. These methods might take weeks or even months, resulting in extra labor costs and potentially inaccurate inventory lists. But, with RFID asset inventory counting methods, hospitals can now take advantage of cutting-edge technology to make inventory management more efficient than ever before. Asset Inventory Management products provide up-to-date inventory lists with the highest accuracy, which helps prevent you from making incorrect decisions. With this RFID-enabled product, you can count all of your hospital assets within one day, leading to increased asset efficiency and a decreased number of over-purchases and rentals. Additionally, this "IoT for Healthcare" product reduces human input in operational processes by registering assets to the relevant personnel without requiring paper signatures. This not only minimizes paper usage but also lowers overall archive costs.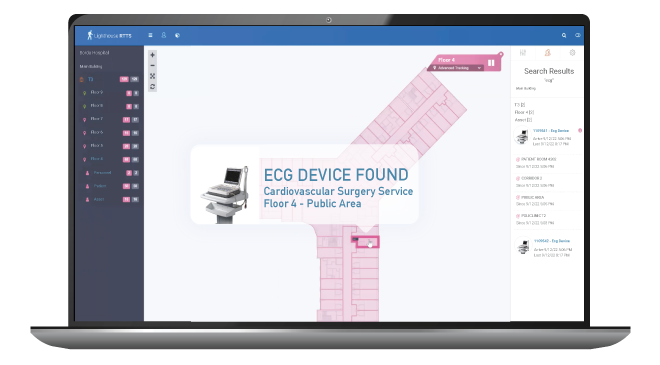 Another main area in which hospital RTLS maximizes efficiency is real-time asset tracking. Asset Utilization can help hospitals optimize their asset utilization. By monitoring the location and usage patterns of assets, hospital administrators can identify underutilized assets and redistribute them to areas of high demand, ensuring that assets are being utilized to their fullest potential. This can help reduce the need for additional purchases, leading to cost savings and increased efficiency. Additionally, hospital staff can find moving assets in a matter of seconds rather than spending hours on asset searches.
Alongside asset operations, hospital RTLS increases efficiency in the operating theatre. Operating rooms account for approximately 40% of total hospital revenue. Patient Flow/Patient Throughput Management, via RTLS patient tracking, continuously tracks the real-time location of patients in the operating theatre, including pre-op, operating room and post-op, and identifies any potential bottlenecks. The result is reduced patient waiting time and maximized OR utilization.
These are just a few examples in which hospital RTLS maximizes efficiency in healthcare institutions.
Advanced patient care quality
RTLS asset tracking has become an essential component of modern healthcare facilities, providing hospitals with real-time data to help improve patient care quality. This hospital asset tracking capability can help hospitals respond to patient needs more quickly by providing real-time data on the location of critical assets, such as infusion pumps and wheelchairs. This means that staff members can easily locate and retrieve the necessary assets, reducing wait times for patients and ultimately improving the quality of care.
Another way that RTLS can improve patient care is by optimizing patient flow. RTLS patient tracking system has a significant effect on patient care quality, in addition to the increasing efficiency of assets. Patients spend less time waiting for their surgeries, leading to improved patient satisfaction and outcomes.
Another improvement in patient care quality using RTLS technology is to enhance patient safety by providing real-time data on the location and movement of patients. This technology can help prevent wandering by alerting staff when a patient enters an area in which they shouldn't be. This feature is especially useful for patients with dementia or other cognitive impairments, as it helps ensure they receive the care they need while preventing potentially dangerous situations. Additionally, Patient Safety solutions allow patients to send emergency alerts 24/7 across the hospital by simply pressing a button on their Patient Tag. The real-time location of the patient who makes a Nurse Call at any time of the day or night is delivered to the nurse immediately. This immediate notification means that healthcare providers can respond quickly, reducing the risk of further injury or threat to the patient.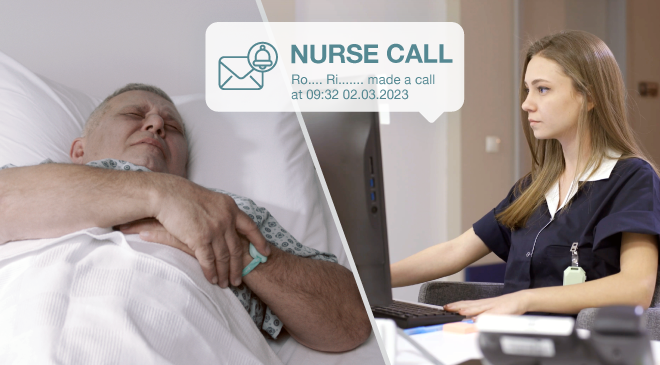 Apart from all these improvements, RTLS technology streamlines workflows by automating many manual tasks. Therefore, nearly all RTLS-enabled products improve patient care quality by spending less time on operations and more time with patients.
In conclusion, the benefits of Real-Time Location Systems in healthcare are numerous, and it is likely that this RTLS technology will continue to play an important role in the future of ''IoT for Healthcare.'' The use of RTLS in hospitals can greatly improve the overall efficiency and quality of care provided.
Embrace the future with RTLS and experience the benefits it brings to your healthcare facility. Contact us today!
March 30,2023