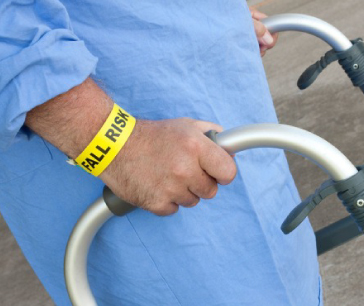 Reduce the Risk of Patient Falls with RTLS Patient Tracking
Reduce the Risk of Patient Falls with RTLS Patient Tracking
Patient falls are among the most common and serious incidents for inpatients, leading to serious injury, prolonged hospital stays and increased healthcare costs for payers. As patients age and become more inactive due to chronic diseases, their risk of falling increases significantly.
Imagine a hospital in which every patient wears a discreet, high-tech wristband that acts as their personal guardian. This smart device constantly communicates with strategically placed sensors throughout the facility, creating a seamless network of protection. As patients move through the hospital corridors, sensors delicately follow their footsteps, relaying their precise location in real-time, alerting healthcare providers of any potential fall risks.
RTLS patient tracking technology uses a network of sensors and tags to track the location of patients in real time. By implementing a hospital RTLS system in a healthcare facility, you can set up zones for patients who have a risk of falling and track them via hospital RTLS. Staff receive instant alarms if patients attempt to leave their pre-designated safe zone, which helps to prevent potentially dangerous situations like patient falls.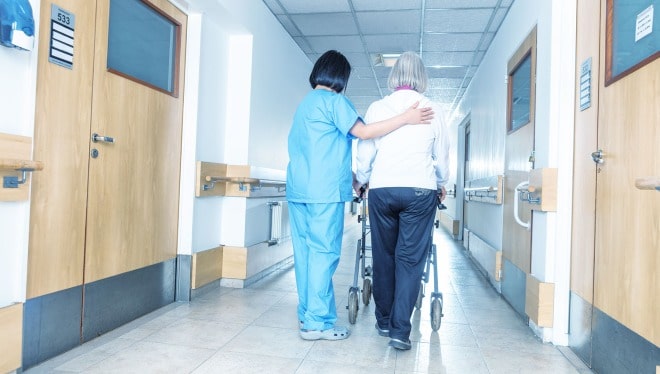 Patient Safety solutions with RTLS patient tracking ability can prevent patients from falling in several ways:
Imagine a scenario in which a patient is at high risk for falls due to their medical condition or medication regimen. By applying a wearable Patient Tags to patients, hospital staff will be alerted when a high-risk patient tries to leave their bed. They can then respond quickly and intervene before an accident happens. This not only keeps patients safe but also provides peace of mind for their loved ones.
The implementation of nurse call systems in hospitals plays a vital role in reducing patient falls and enhancing fall prevention measures. These systems enable patients to promptly request assistance from healthcare providers. By simply pressing a button on their Patient Tag, patients can instantly make a nurse call, 24×7, anywhere from the hospital. The nurse call system immediately alerts healthcare providers, allowing them to respond promptly and provide the necessary support to prevent falls. By facilitating quick and efficient communication between patients and caregivers, nurse call systems can significantly contribute to preventing accidents, improving patient outcomes and creating a secure hospital environment focused on patient well-being.
The other key benefit of preventing patient falls with healthcare RTLS technology for hospitals is its ability to adapt to the unique needs of each patient. Patients with chronic conditions or other risk factors can be monitored more closely, and staff will be alerted when they need assistance. This can help to minimize the risk of falls and ensure that patients receive the care they need to stay healthy and safe.
RTLS patient tracking capability can also increase the level of environmental safety. By monitoring the movement patterns of patients with a wearable Patient Tag, high-risk areas for falls can be identified in patient rooms, inpatient wards and other hospital areas. With the help of RTLS patient monitoring technology, hospitals can uncover trends and patterns in falls and develop more targeted, effective prevention strategies.
In conclusion, hospital RTLS is an innovative and effective solution to prevent falls in hospitals. By providing real-time patient tracking, healthcare facilities provide better care while increasing hospital patient safety and improve overall healthcare quality by creating a safer environment for everyone involved. Preventing the patient from falling reduces the risk of serious injury and can create a safer hospital environment for patients.
Let's make patient safety a top priority and revolutionize with the power ''IoT for Healthcare'' products – get in touch with us today!
Jun 07,2023