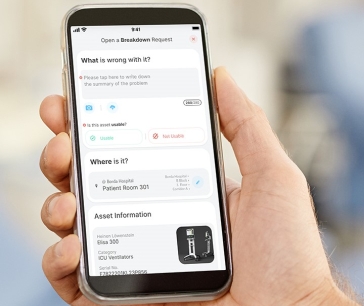 REVOLUTIONARY WAY OF RTLS-ENABLED HOSPITAL ASSET MAINTENANCE MANAGEMENT (CMMS) WITH ChatGPT ASSISTANT FROM BORDA TECHNOLOGY
Revolutionary Way of Rtls-enabled Hospital Asset Maintenance Management (CMMS) with ChatGPT Assistant From Borda Technology
Minimize asset downtime and maximize lifespan by effortlessly scheduling, tracking, managing and optimizing every stage of maintenance, calibration and breakdown activities from anywhere, anytime. Gaining visibility across all stages gives you complete control, ensuring that work orders are delivered on time, and assets are up and running.
Borda Technology, the leading provider of globally award-winning "IoT for Healthcare" products, has announced the launch of its latest product, which redefines the standards of asset management.
"Our Asset Maintenance Management is a significant milestone for digital transformation in hospitals and healthcare institutions, bringing operational awareness, improving operational efficiency, reducing costs and ultimately enhancing patient outcomes. We're confident that hospitals will be able to achieve greater efficiency and effectiveness in managing their assets and are excited to be at the forefront of this transformation," said Akin Altunbas, Co-Founder and CEO of Borda Technology.
This all in one hospital CMMS (Computerized Maintenance Management System) is designed to help healthcare institutions achieve digital transformation and streamline maintenance, calibration and breakdown processes. Conventional paper-based and spreadsheet-based methods of managing maintenance and calibration processes may result in missed asset maintenance and serious medical errors. Within this comprehensive Asset Maintenance Management, the "Digital Protection Calendar" takes preventative activities maintenance and calibration processes to the next level, enabling scheduling, tracking and managing every stage of through a single dashboard without the need for paperwork. In the event of a breakdown, hospital staff can seamlessly submit a breakdown request across the entire facility through a mobile application, even while on the move.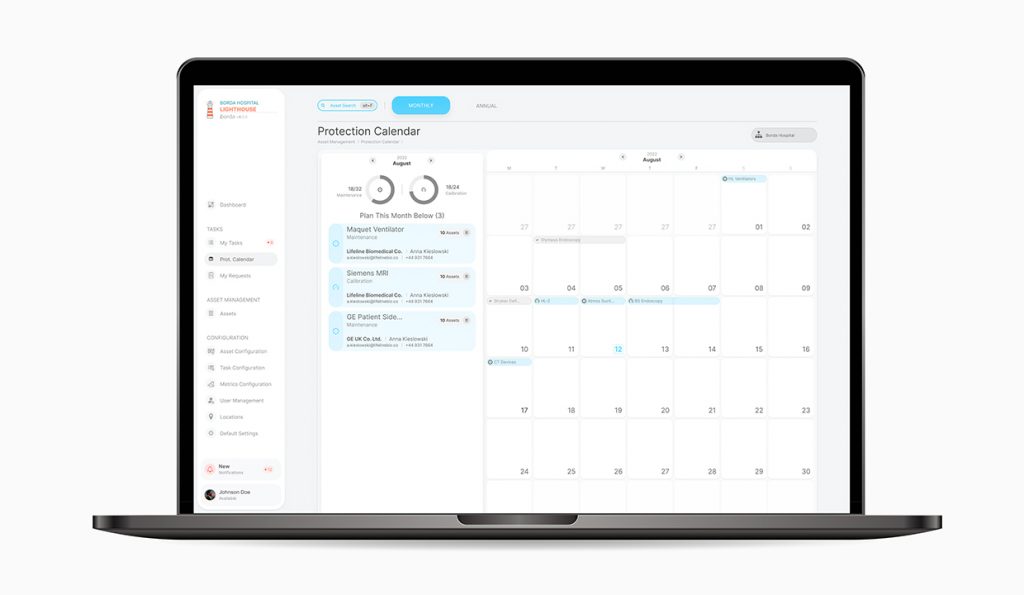 Through RTLS-powered healthcare CMMS, each scheduled maintenance or submitted breakdown is assigned to the appropriate technicians in seconds.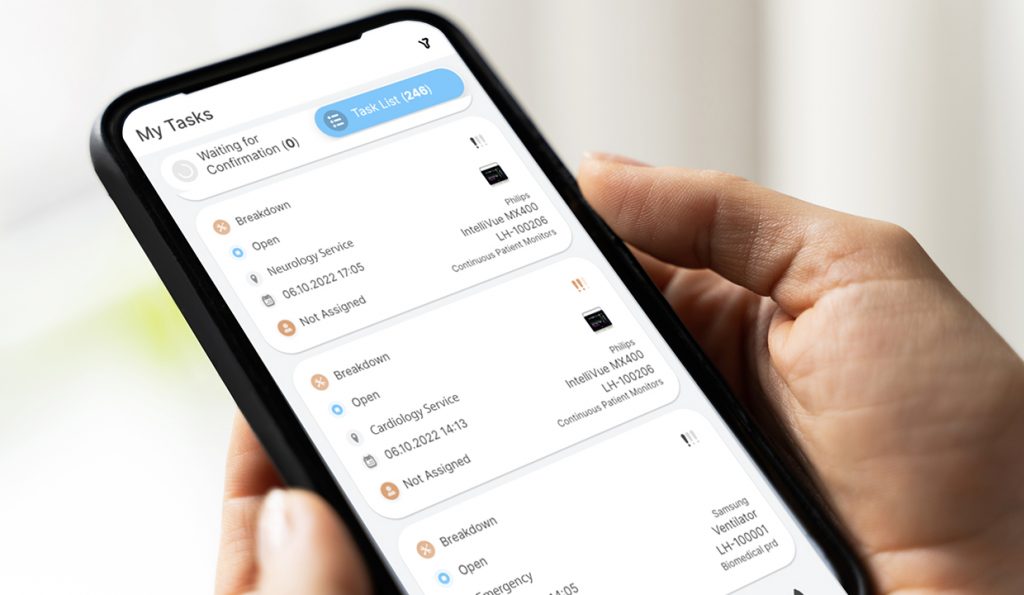 Biomedical technicians receive instant notifications on the go with the real-time location of assets when work order requests arise, ensuring swift and precise responses. The AI-powered assistant ChatGPT is at the fingertips of technicians, providing step-by-step troubleshooting instructions to resolve any breakdowns, accessible through a simple click on the mobile application. Upon completion of the maintenance or repair process, the requester is promptly notified of the asset's updated status. As a result, you can be confident that your requests are handled properly and efficiently, your assets are in proper working condition, and the hospital is making the most of its investments.
RTLS (Real-time location systems) asset tracking availability within the product breaks the boundaries of healthcare CMMS, instantly providing the real-time location of mobile assets throughout the hospitals. Technicians are instantly notified about any maintenance or breakdown requests on the go with the real-time location of assets. Hospital staff can find any mobile assets in a matter of seconds, and they can focus their energy on what truly matters – providing the best possible care for their patients instead of wasting hours on asset searches.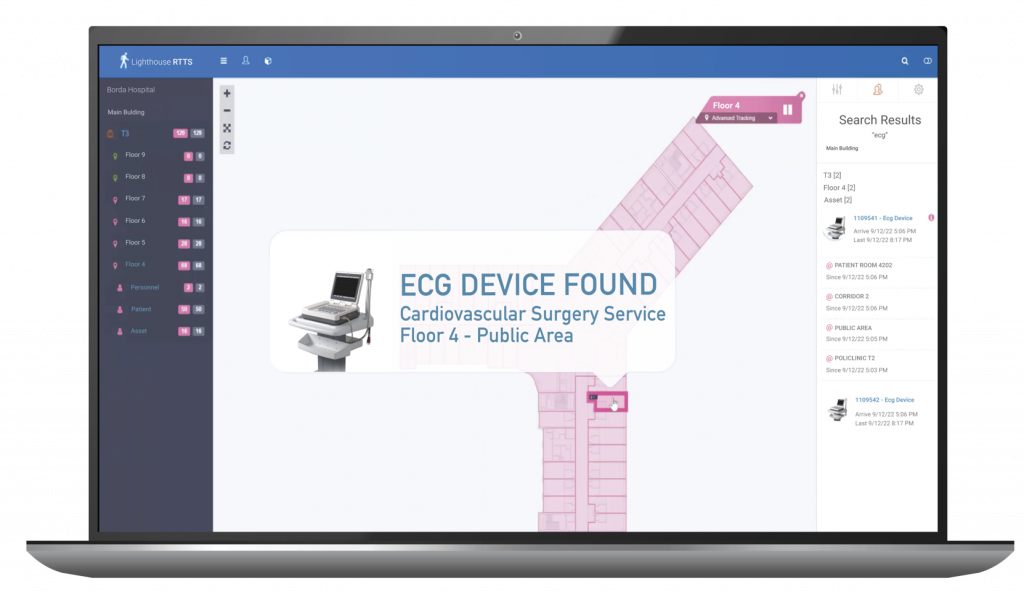 As a result, this capability brings significant staff time savings, reduces the need for unnecessary purchases and minimizes the waiting time for essential treatments. The "IoT for Healthcare" concept also revolutionizes asset assignment processes, empowering hospital staff to receive instant real-time notifications when an asset under their responsibility is moved to another location. Hospitals can leverage their existing Wi-Fi Access Point infrastructure for RTLS asset tracking feature without the need to invest in a new infrastructure.
Additionally, this next generation product automatically records all operational costs, such as repair, repair time and maintenance/calibration costs. This data-driven decision-making process allows you to better plan your future investments (repairs, replacements and new purchases) and reduce overall asset lifetime costs. In the case of audits or inspections, hospitals can easily access the necessary information, ensuring compliance and minimizing the risk of penalties or reputational damage.
Apply for a 2-week trial and personalized demo here: https://www.bordatech.com/asset-maintenance-management.
Borda Technology: With over a decade of experience in "IoT for Healthcare," Borda Technology helps hospitals worldwide with their digital transformation and smart hospital journeys through global award-winning IoT products. Borda transforms technology into operational awareness by using IoT data collected through sensors, eliminating the need for human intervention, with 10 different products such as Asset Management, Asset Utilization, Patient Throughput Management /Patient Flow, Infant Safety, Staff Safety and Work Demand Management. The result is better patient care, increased operational efficiency, enhanced safety and advanced patient experience. Operating in more than 15 countries with offices in US, Sweden, and Turkey, Borda currently has a presence in the 5 million square meters of hospital space, manages more than 1 million hospital assets and maximizes the efficiency of thousands of patients and staff processes throughout the world.
Jun 05,2023