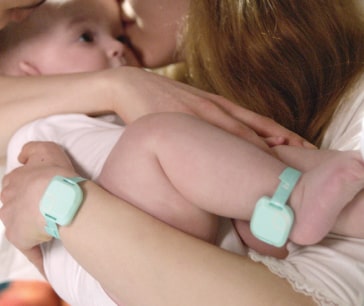 RTLS enabled Patient, Infant & Staff Safety (image stretch)
RTLS enabled Patient Safety, Infant (baby) Safety and Personnel Safety
Ensure 24/7 safety throughout the hospital.
Safety is one of the most important concerns in any healthcare facility, particularly large ones that house thousands of patients and hundreds of healthcare workers. Hospital staff cannot monitor all patients at all times. A critical issue like safety can only be left to technology, not human or manual monitoring. RTLS has arrived. In healthcare, RTLS is about more than operational awareness. It also provides instant benefits by precisely and continuously tracking each infant, patient, and staff/personnel.
Creating safe zones (floor, unit, room) for your patients and infants, as well as receiving instant alarms when they leave their safe zones, ensures patient and infant(baby) safety.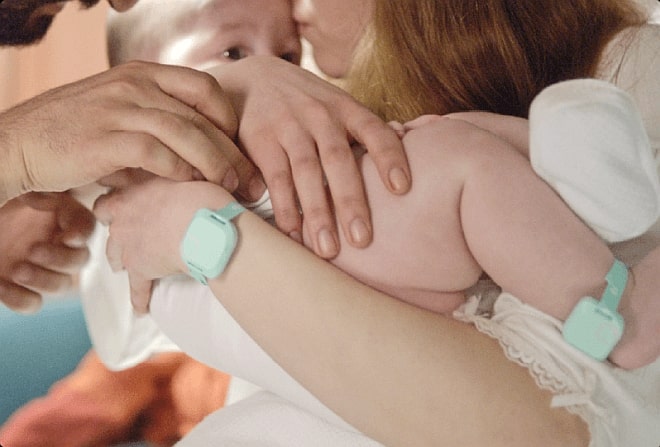 Infant (baby) Safety Solution alerts you immediately when infants leave their safe areas without authorization. Tamper Proof Infant tags add an extra layer of security by sending instant notifications in the event that an attempt is made to cut or remove the tag from an infant's ankle. Furthermore, proper mother-infant matching is always ensured. Integration with hospital systems such as BMS and CCTV improves security.

RTLS patient tracking ability allows getting notified when patients at risk of falling or those with Alzheimer's disease leave their pre-designated safe zone. This has a direct impact on value-based purchasing in US healthcare system. RTLS Patient Safety solution be integrated with the hospital's Nurse Call system, allowing patients to send emergency alerts 24/7 across the hospital by simply pressing a button on their Patient Tag. To ensure the quickest possible response, the nurse will receive the alarm immediately along with the patient's real-time location information.
Aside from patients and infants, hospital staff may face threats, particularly in emergency departments and psychiatric units. In such a dangerous situation, security intervention time is critical. Staff Safety/Security solution through Staff (Personnel) Tracking allow your staff to call for help 24/7 across the hospital by simply pressing the button on their Staff Tag. Once the button is pressed, the staff's emergency call is transmitted to the security, along with the real-time location of the Staff.
September 28, 2022