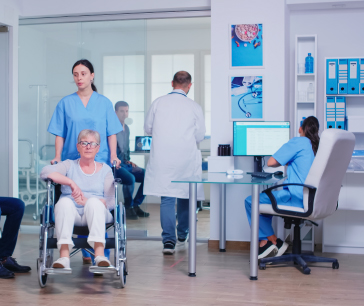 Improve Staff Workflow through Hospital RTLS
Improve Staff Workflow through Hospital RTLS
In the dynamic and fast-paced environment of the healthcare sector, where patients and healthcare professionals, including doctors, nurses, and hospital staff, are constantly on the move, seamless collaboration is essential to provide optimal patient care. Traditionally, manual processes have been prone to time delays, potential errors, and inefficient resource utilization. However, effectively coordinating diverse tasks and activities can be a challenge for healthcare providers. Task completion delays, increased patent idle waiting times, excessive time spent on task assignment, and failure to comply with regulations/standards are just a few of the negative effects on hospital revenue. This is where RTLS (Real-Time Location Systems) technology comes into play. Through hospital RTLS technology, efficient task assignment and management are facilitated, ensuring timely and high-quality patient care while minimizing delays and optimizing workflow efficiency. With the emergence of Real-Time Location Systems (RTLS) technology, hospitals are experiencing a paradigm shift in staff workflow management. This, in turn, can help to boost staff flow in several keyways. For instance, by leveraging hospital RTLS technology, healthcare organizations can ensure staff task assignments, eliminate unnecessary costs, minimize delays, achieve superior patient care and heighten staff productivity.
From Chaos to Coordination: The Benefits of RTLS Staff Tracking in Hospital Staff Workflow
Imagine a hospital with a vast workforce comprising thousands of employees. Every day, numerous tasks are carried out within the hospital, and dispatchers assign these tasks to porters manually, without having knowledge of their workload or real-time location in the hospital. It is well-known that traditional methods are inadequate for keeping track of the staff' daily task assignments.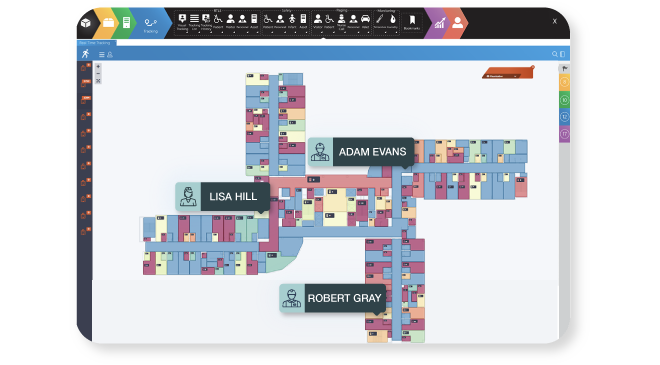 Real-time location systems (RTLS) can be a valuable tool for hospitals looking to improve workflow and minimize delays on task completion among hospital staff. Location-aware Work Demand Management  through RTLS personnel/staff tracking, offers an invaluable insight into staff utilization patterns, unveiling inefficiencies and delays. By leveraging RTLS in hospitals can eliminate extra labor costs and streamline task assignment, optimize workflow efficiency and reduce waiting times, leading to faster response times. The optimization of processes not only saves valuable time and labor but also empowers staff to prioritize and deliver superior patient care.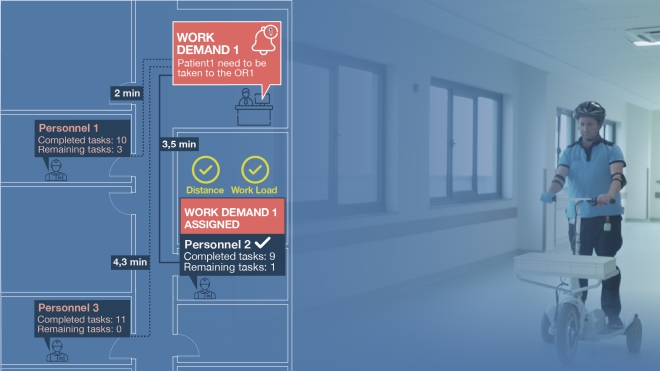 This Hospital RTLS capability eliminates the need for manual task assignment by dynamically assigning each task to the most suitable porter in less than 10 seconds based on their real-time location and current workload information. This "IoT for Healthcare" concept decreases the time between task assignment and task completion, resulting in the same amount of tasks being completed in a shorter time with fewer workforces.
Porters are equipped with Staff Tags and RTLS-enabled mobile applications can conveniently access their pre-assigned tasks by dispatchers while on the move. Small and lightweight Staff Tags with battery life up to 2 years utilize Bluetooth Angle of Arrival (AoA) technology and Ultra-Wide Band (UWB) to detect the staff's exact location accurately. Tags can be attached to the collar or hung through the clips.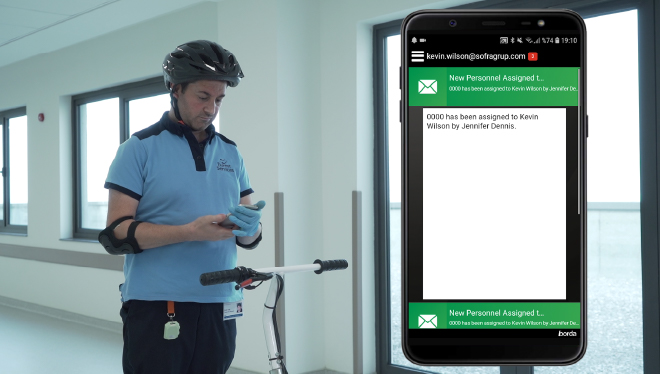 Through the mobile application, staff/porters can use the mobile application to view and complete pre-assigned tasks while on the go. Because tasks are assigned in the most efficient manner, the time between task assignment and task completion is reduced. The same number of tasks are completed in less time with fewer workforces, and regulations & standards are met.
By utilizing visual reports, you gain valuable insights into task duration categorized by personnel. This data empowers you to streamline future job and resource planning, while also enhancing performance management. Additionally, tracking each personnel's workload ensures fair distribution, fostering a sense of justice that enhances satisfaction and loyalty among staff members.
Moreover, Staff Utilization product aid in measuring and optimizing staff response time to patients and time spent in each patient room. This deeper understanding enables patients to benefit from increased interaction with staff, ultimately resulting in higher levels of patient satisfaction.
In addition to staff tracking, RTLS asset tracking plays a crucial role in directly enhancing staff efficiency and improving workflow within a healthcare setting. With real-time visibility into the location and availability of essential assets, staff members can instantly locate and access the resources they need to perform their tasks effectively. This eliminates time wasted searching for assets and ensures that staff can focus on delivering quality patient care. Healthcare RTLS asset tracking also enables hospitals to identify staff utilization patterns and optimize resource allocation, streamlining workflows and reducing delays.
In summary, the implementation of RTLS technology can be a game-changer for healthcare facilities looking to manage and optimize their staff workflow. Whether it is eliminating manual processes, reducing task completions times, cost savings, boosting patient satisfaction, or providing valuable insights into hospital operations, healthcare RTLS technology has the potential to revolutionize the way healthcare is delivered. Embracing this transformative technology empowers healthcare organizations to deliver timely and high-quality patient care while maximizing resource utilization. Location-aware Work Demand Management through RTLS staff tracking capability can help healthcare facilities provide better, more personalized care to their patients while also improving staff satisfaction and productivity. With hospital RTLS technology, the vision of a seamless and stress-free staff journey can become a reality.
Getting started is easier than you think. To streamline your healthcare operations and facilitate your staff workflow, consider adopting our end-to-end "IoT for Healthcare" products today. Contact our Sales Team today and see what you will gain with game changer RTLS technology.
July 24, 2023