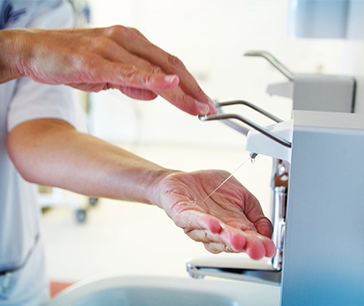 Ensuring Hand Hygiene Compliance with RTLS Technology
Ensuring Hand Hygiene Compliance with RTLS Technology
Patient safety has always been a top priority in healthcare, and maintaining hand hygiene practices is a fundamental pillar of ensuring this safety. Hand hygiene not only protects patients from infections but also safeguards the healthcare professionals themselves. Hand hygiene is an essential component of infection control within healthcare settings. The World Health Organization (WHO) emphasizes hand hygiene as a key measure to prevent the spread of healthcare-associated infections (HAIs) and ensure patient safety. HAIs can have severe consequences for patients, prolonging hospital stays and increasing healthcare costs. HAIs pose a significant threat to patients, and maintaining proper hand hygiene among healthcare professionals is a proven method to mitigate this risk. According to the Centers for Disease Control and Prevention (CDC), HAIs affect 1 in 31 hospital patients each day in the United States. A high level of compliance with hand hygiene is therefore an essential step in preventing healthcare-associated infections and protecting doctors, nurses and patients.
Hand hygiene compliance has traditionally been monitored using non-technological methods. In traditional methods, trained observers are appointed among the hospital staff and the hand hygiene behaviors of the health staff are monitored and recorded. Direct observation of hand hygiene behavior has some risks: People can change their routine behavior with the awareness of being watched. Since the number of hand hygiene observers is limited in hospitals, it is not possible to observe sufficient numbers of health staff with direct observation.
Elevating Hand Hygiene through Hospital RTLS Integration
Real-time location system (RTLS) integration is reshaping how healthcare facilities approach hand hygiene, promising a higher level of compliance and patient well-being. RTLS technology has various use cases in hospitals such as asset tracking, patient flow/throughput management, patient and infant safety. In addition, RTLS patient tracking capability can be used to monitor hand hygiene compliance. There are two main factors to monitor hand hygiene compliance: Hand hygiene devices such as disinfectant dispensers and hospital staff. In hospitals with RTLS infrastructure, it is possible to fully monitor hand hygiene compliance through RTLS tags.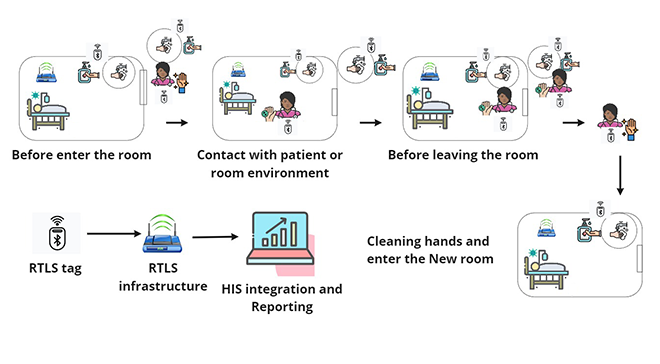 When healthcare staff enter or leave the patient's room, they must wash or disinfect their hands in line with worldwide hand hygiene compliance standards. RTLS hand hygiene tracking technology can detect compliance status. RTLS tags can be attached to the hand hygiene device in the patient's room, and healthcare staff are equipped with RTLS-enabled badge tags. Thanks to RTLS hand hygiene tracking technology, the working time of the hand hygiene device and the healthcare staff using this device can be monitored simultaneously. If the location of the staff is detected next to the device when the device is working, it is understood that hand hygiene has been complied with. RTLS can also generate instant alerts or reminders to healthcare professionals, prompting them to perform hand hygiene when necessary.
In conclusion, RTLS patient tracking technology enables hand hygiene compliance more accurately without the need for direct observation. The integration of RTLS with hand hygiene practices in hospitals signifies a forward-thinking approach to patient care. This synergy between advanced technology and fundamental infection prevention measures not only enhances patient safety but also underscores the commitment of healthcare facilities to delivering the highest standard of care.
October 18, 2023