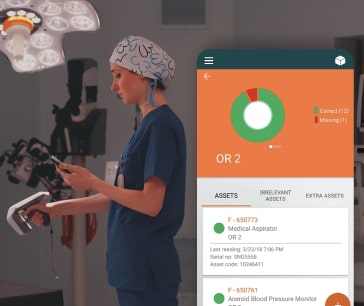 Asset Management & RTLS Asset Tracking
Asset Management & RTLS Asset Tracking
Get the most out of your hospital assets
The current state of the healthcare industry is inefficient. 140 billion dollars are lost every year in US hospitals due to inefficient management of operations1. Nurses spend up to 30% of their time by searching for assets2. An average asset in a hospital remains underutilized for more than 50% of its lifespan3. On the other hand Conventional inventory counting methods can take weeks or even months. By the time you finish counting, the inventory has already changed, and the inventory result does not reflect reality. The result is extra labor costs and wrong decisions with an inaccurate inventory list.
RFID (Radio Frequency Identification)  technology enables you to complete your whole counting process within a couple of days in the most accurate and fastest way. You do not even need to enter rooms to count your inventory.   During the inventory counting process, you can instantly identify misplaced and missing assets using your mobile application, reducing over-purchase and rentals. Following the implementation of RFID enabled Asset Inventory Management product in the World's Third Largest Hospital4 with 129K assets, the counting duration was reduced from 6 weeks to 3 days with 1 staff. And asset misplacement has been reduced by 90%.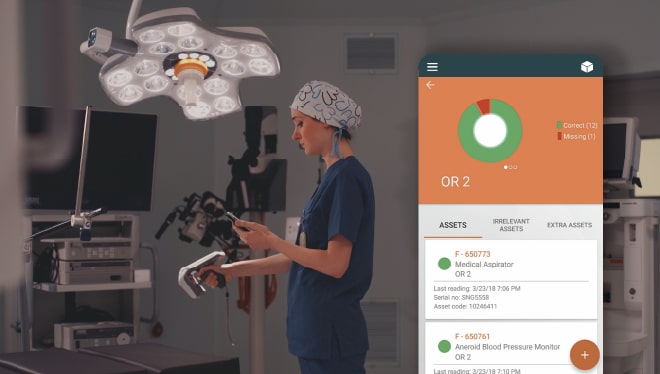 With Asset Inventory Management, you can now access your most recent asset inventory list, but how well are these assets being used? You may believe that the number of assets of your particular type is insufficient. However, their placement and allocation within the hospital may be incorrect. On the other hand, the number may be adequate, but it is unavailable when needed for patient care.
Asset Utilization solution using real-time asset tracking capability allows you toidentify which assets are idle and which are heavily used. Actual asset usage rates allow you to reallocate assets to where they are most in demand, allowing you to make data-driven purchase decisions and avoid unnecessary purchases and rentals.
Because you can access the assets' instant locations, you can find the portable assets you need in seconds. In the World's Third Largest Hospital, time wasted searching for a mobile asset was reduced by 94%. So that your staff can devote more time to patient care rather than asset operations. So that your staff may focus on patient care instead of spending an excessive amount of time on asset operations. Furthermore, RTLS asset tracking systems enable you to set rules for your assets so that you receive alerts when they leave certain areas. So, you can be sure that your assets are always ready for patient care.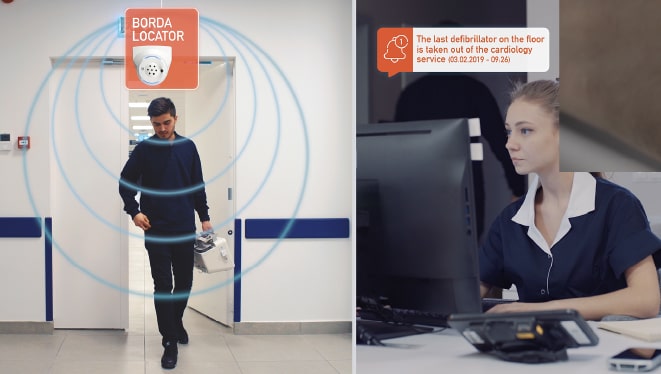 Assets in which you have invested thousands of dollars require preventative maintenance/calibration and assets get broken within time. Asset downtimes, manual maintenance/calibration and breakdown processes are among the main challenges in the healthcare industry. Asset Maintenance Management (CMMS) healthcare systems enable tracking and managing end-to-end maintenance and breakdown processes without any paperwork.
You can view asset downtime history by brand and model, as well as track each operational cost, such as repair time, response time, and downtime costs. With a better understanding, you can accurately plan your future investments (repairing, replacing, and new purchases) and reduce asset lifetime costs. The system enables you to automate workflows, saving time and money. Furthermore, you can reduce patient safety risks by ensuring that your assets are maintained and calibrated prior to patient use.
While doing all these (Asset Inventory Management, Asset Utilization), you should ensure that your assets stay in your hospital and ready for patient care at all times.
Hospitals lose their temperature monitors, glucometers, oximeters, and more. RFID-enabled Asset Safety solutions help to reduce the risk of asset loss by sending real-time alerts to security in the event of theft attempts, unauthorized movements, or unintentional leaves. Borda's Asset Safety product can be integrated with a CCTV system, allowing you to conduct investigations using CCTV surveillance.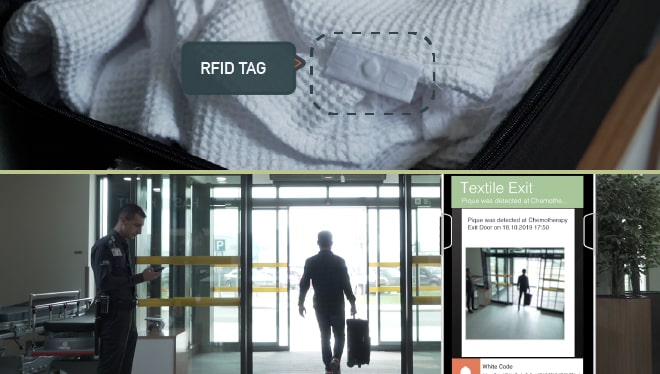 July 21, 2022